Megafun
"Megafun" with its roundabouts and swings for little guests, as well as the biggest labyrinth with mirror in Baku called Magic Jungle, Dino Park with its 7 giant dinosaurs plunging the children into the world of fairy tales and hundreds of new attractions and game apparatuses became the most favorite object of entertainment for everybody from adults to kids.
Megafun Entertainment Center works on Monday to Friday 14:00 p.m. to 23:00 p.m., Saturdays and Sundays (holidays and non-working days)11: 00 a.m.-to 23: 00 p.m.
Address: 15 Nobel Avenue, Baku, Azerbaijan
Olimpik Star
Fun and Games, Sports Complexes, Bowling Alleys
Tel: +994 12 449 40 01
Address:
5A Yusif Vazir Chamanzaminli
, 
Baku, 
Azerbaijan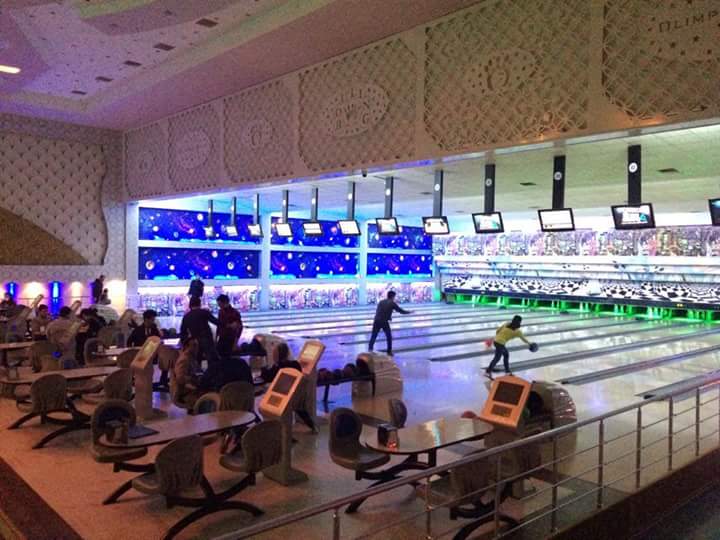 Phantom Quests
"Phantom Quests" – real-life escape room which is an unforgettable adventure for a group of people, where you can get the chance to become the character of a screenplay such as in your favorite movies, books or computer games. A group of 2-5 people appears in a real room with the appropriate decorations and atmosphere trying to gather all the hints and solve the tasks in order to find the way out.
Tel:  +994 50 509 52 22
Address: Zardabi St., 74 | Near Galaba Circle/Azpetrol, Baku, Azerbaijan
ETX Lazer Strike
"ETX Lazer Strike" is the first world-class professional double-level laser tag sports arena in Azerbaijan. Equipped with US manufactured system by Lasertron, we strive to offer best possible laser tag experience.
Address:
Shamil Azizbayov St
 | 
Jale Plaza, 4th Floor
, 
Baku AZ1011, 
Azerbaijan
Baku Karting & Event Center
Address:
Ahmed Radjabli St., 30/68
, 
Baku, 
Azerbaijan
Baku Aquatics Center
"Aquatic Palace" The multipurpose sports complex gives more new opportunities for sports activities to the most wide range of admirers of sport — both to athletes, and amateur adherents of physical culture and a healthy lifestyle, including adults and children. The fitness the center of 2500 sq.m includes 8 universal gyms, such as: yoga, Pilates, dances, zumba, saykling. And also the area of 1500 sq.m. is allocated to other sports occupations. The Aquatic Palace project is created by the Spanish architect Kym Piolom. The main priority of a complex is that a ceiling part of the Olympic complex consists of glass and it provides the longest presence of natural light.
Tel: +99412 491-91-91
Address: Baku. Academician Ahad Yagubov St, Sabail District.   AZ 1003
Phobia VR
Phobia VR center lets you experience more than 100 games and simulators for adults and kids. There are wide range of games from shooters and horrors to sport and casual games, both in single and multiplayer regime.Virtual Reality is not just the beginning of a new stage in the development of the entertainment industry.
Today VR is a serious and large business. Virtual Reality radically changes the process of the game, dipping into a three-dimensional space, immerses the inside of the game, at the center of all events. For this, of course, special equipment is used. Despite the fact that relatively simple device models are already on the market, such irreplaceable models for full immersion as Omnia Virtuix, Roto and VR Cinema are presented only in Phobia VR.
Also, you can immerse yourself in Virtual Reality through PlayStation VR, HTC Vive, Oculus Rift and other our devices.
Tel: +994 50 777 66 63
Address: Nizami street 42, Nargiz Mall
GABALAND
There's so much going on, the fun never stops! Home to Azerbaijan`s most-loved amusement parks with great kids attractions, special events and much, much more, Gabaland is the perfect destination for the whole family! The theme park is open for the whole year!
Gabaland is the Azerbaijan's number one short break destination and Gabala's greatest escape! The Gabaland offers the leading theme park in a Caucasus region with amazing rides and endless family fun and Gabala Resort fantastical hotel. Get some unique national souvenirs made by local masters in our shop.
Comfortable and wide parking area, amazing mounting view, fresh air every day, delicious foods in a café, beautiful Flower Garden – and all this in Gabaland with area of 16 hectares .
Tel: +994 50 290 01 41
Address:  X.Gasimov st 1, Gabala 3600, Azerbaijan