AZERBAIJAN STATE ACADEMIC DRAMA THEATRE
Origin of Azeri nation's theatrical art relates to national holidays and dances. Elements of theatricality were contained in many kinds of national creativity accompanying national festivities, traditional holidays and other occasions. On 10 March 1873 under the guidance of Hasan bey Zardabi and with the participation of students of the Real School of Baku a performance was held – M.F.Akhundov's "Vizier of Lankaran khanate" comedy was showas heldwn. The professional Azerbaijani theatre was originated after this very performance. In 1919, separated troupes joined up and the theatre acquired the state recognition
Then Azerbaijan Dramatic Theatre had different names in different years-"State Theatre", "United State Theatre", "Azerbaijani Turkic Drama Theatre" and others. In 1923-1933's the theatre was named after Dadash Bunyatzade, but in 1933-1991's after Meshadi Azizbekov. In 1991, the theatre was renamed to the "Azerbaijan State Academic Drama Theatre".
Official page of Azerbaijan State Academic Drama Theatre – www.azdrama.az
Tel: (+99412) 594-48-68
Address: AZ1009, Baku Yasamal r-n. area Reference point: Beshmertebe
AZERBAIJAN STATE ACADEMIC OPERA AND BALLET THEATER
The Akhundov Azerbaijan State Academic Opera and Ballet Theater was built in 1911. The theatre was built at the request of millionaire Daniel Mailov and funded by Zeynalabdin Taghiyev. According to an urban legend, Mailov and his brother were not invited to a housewarming ball of a famous opera singer from Baku whose new house (now the head office of SOCAR) was one of the most outstanding pieces of architecture in the city. The Mailovs therefore decided to erect a building of their own outdoing the "tactless" singer. In 1910, famous Russian soprano Antonina Nezhdanova visited Baku giving several concerts at various clubs and performance venues. On a ball organized on the occasion of Nezhdanova's departure at the local casino, she was asked whether she would like to visit Baku again. Her response was negative followed by a concern that in a city of so many wealthy people no one would fund the construction of a decent opera theatre where singers could fully demonstrate their musical talent. Daniel Mailov who had grown to admire both Nezhdanova's voice and persona during her tour decided to use this opportunity and offered her to revisit Baku in one year to attend the opening of a new opera theatre, which he would order to build in her honour.
Tel: (+99412) 493-34-49
Address:  AZ1000, Baku 28. Nasimi area. Reference point: NIZAMI Cinema
AZERBAIJAN STATE PANTOMIME THEATRE
The theatre was founded in 1994 by Bakhtiyar Khanizadeh, an actor of the Azerbaijan State Theatre of Young Spectators. He worked closely with students of the Azerbaijan State University of Culture and Arts and selected the ones he considered fit to establish the pioneer mime theatre studio in Azerbaijan. For the next 11 years, the theatre was based in the building of the Theatre of Young Spectators until relocated to the building of the Shafag Cinema. In 2000, the theatre received the status of a state theatre.
Beginning in 2000, the theatre has twice housed the Himjim International Pantomime festivals. As of 2009, it has toured 12 countries, its repertoire including 24 plays by both local and foreign playwrights.
Official web site of Azerbaijan State Pantomime Theatre – www.pantomima.az
Tel: (+99412) 441-47-56
Address: AZ1000, Baku Azadlig ave. 75 (former 49) Nasimi area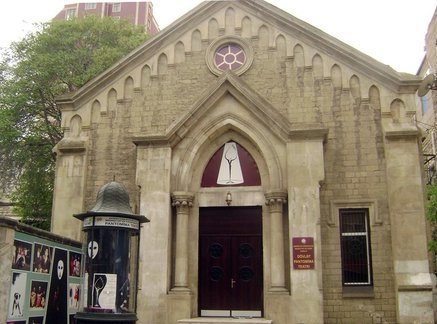 AZERBAIJAN STATE RUSSIAN DRAMA THEATRE
Azerbaijan State Russian Samed Vurgun Drama Theatre is a drama theatre located in Baku, Azerbaijan.
The theatre was first established on December 20, 1920 as a State Free Satirical agitational theatre, however on April 29 it was renamed to Baku Workers' Theatre. In 1937 the name was changed to Azerbaijan State Red Banner theatre of the Russian drama.
Official site: http://www.rusdrama-az.com/
Tel: (+99412) 493-76-54
Address: AZ1000, Baku Khagani 7 Sabail area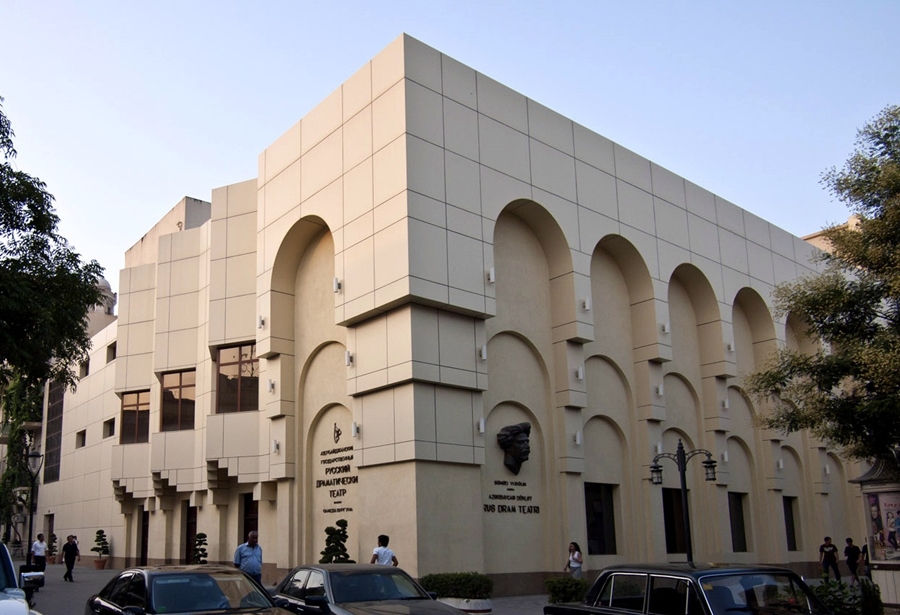 AZERBAIJAN STATE THEATRE OF YOUNG SPECTATORS
The theatre was founded in 1928, when a Russian troupe made a performance here for the first time. An Azerbaijani troupe, created on the basis of drama circle of pioneers affiliated with the Baku Club of Sailors became a member of this theatre, in 1930.
In the first years of its existence, the theatre staged plays of Russian writers, which were constituted the repertoire of Young Spectators' Theatres of other cities of the USSR. In the 1930s, plays of Azerbaijani dramatists were included in the repertoire of the theatre: In the streets by Jafarov and Melik-Yeganov (1932), Nargiz (1936), Ayaz (1937), Gizil Gush (Golden bird) by Seyidzade (1938), and Mammad the Partisan by Isgandarov and Sabit Rahman (1939).
In 1936, the theatre was named after Maxim Gorky.
Tel: (+99412) 493-88-52
Address: AZ1000, Baku Nizami 72 Sabail area
BAKU PUPPET THEATRE
The Baku Puppet Theatre (formally Abdulla Shaig Azerbaijan State Puppet Theatre) is located on Neftchiler Avenue of Baku. It was built in 1910 by Polish architect Jozef Ploszko, initially as the French Renaissance "Phenomenon" movie theater.
The puppets come in size from a few centimetres to double human growth.
The theatre building was erected at the Baku Boulevard when there was no greenery yet. The exhaust ventilation system was superseded by forced ventilation. When the movie theater was opened to the public in June 1910, its administration advertised the features of full air change, occurring every 15 minutes and special ozonator. In 1921, according to project of Azerbaijani architect Zivar-bey Akhmadbeyov the theatre was cardinally rebuilt for theatre "Satyragite". Since 1931 the theatre serves its current function, becoming independent in 1965.
Tel: (+994 12) 492-64-25
Address: 36, Neftchiler ave. Baku
RASHID BEHBUDOV STATE SONG THEATRE
The Rashid Behbudov State Song Theatre is located in Azerbaijan's capital Baku, on the Rashid Behbudov Street, and is named after Rashid Behbudov, who founded it. The building's facade features columns with Ionic order and ornamented pediment with lyre on it.
The theatre's repertoire consists of folk songs, mugams and tasnifs, as well as of works of national composers like Uzeyir Hajibeyov, Gara Garayev, Fikrat Amirov or Tofig Guliyev. Popular artists, such as Zaur Rzayev, Ilhama Guliyeva, Mubariz Taghiyev, Azar Zeynalov, Zohra Abdullayeva and Aybaniz Hashimova, worked in the theatre.
The theatre is open from 9 a.m. to 18 p.m.
Tel: (+99412) 493-98-16
Address: AZ1000, Baku Rashid Behbudov 12 Sabail  area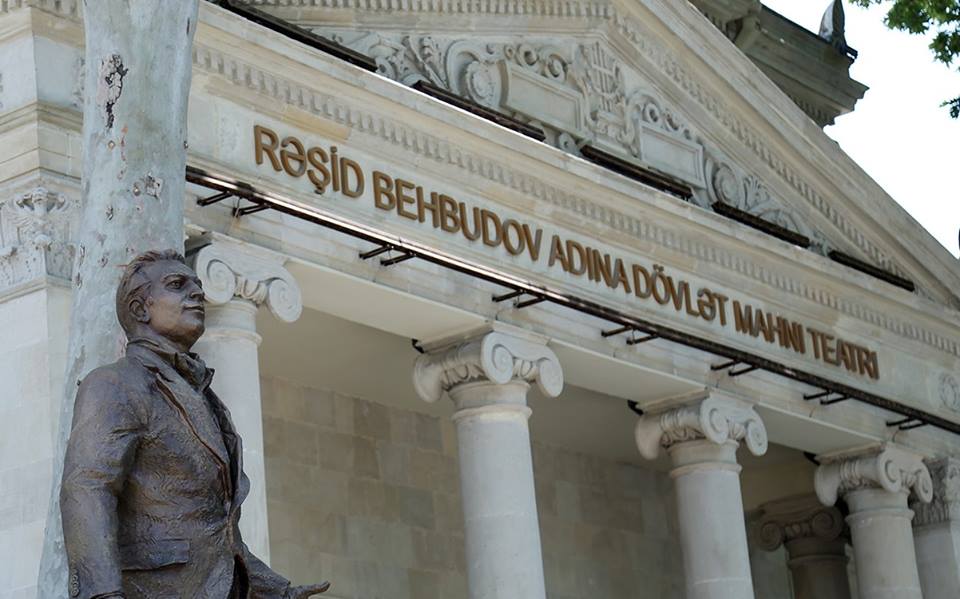 THE GREEN THEATRE
The Green Theatre is an open-air theatre in Baku, the capital city of Azerbaijan. The theatre seats 2500 spectators.
The theatre was built in the mid-1960s on the initiative of the city's major of the time Alish Lambaranski. The Green Theatre was built as a venue intended for important cultural events.
In 1993, the theatre ceased functioning. In August 2005, Ilham Aliyev, the President of Azerbaijan ordered to carry out repairs works in the theatre.
Tel: (+99412) 4922637
Address: Istiglaliyyat, Baku, Azerbaijan